These times of uncertainty and stress have tested us in ways that are unprecedented. It's so easy to get caught up in all the negativity that's been going on lately that our systems can become overwhelmed and burned out. On top of that, your kids can pick up on it too. That's why it's so important to take good care of yourself right now so you can stay healthy. If you're wondering about staying healthy in times of uncertainty, we have tips for you here.
I know that caring for yourself is easier said than done because I struggled so much with mom guilt, busyness, and overwhelm. For the longest time, I allowed myself to burn out and suffered multiple health issues because of this mindset. Over time, I was able to slowly gain my energy and health back.
I learned there was more to life than working and being a mom of 3 kids. I also learned that when you take good care of yourself, you're also taking good care of everyone else. So here are simple ways you can stay healthy every day in mind, body, and spirit.
Ways to stay healthy in times of uncertainty
Sleep
Good health starts with having a good night's sleep. This is one that I personally struggled with (and still do sometimes), especially when my kids were still babies. First of all, if you're not getting 7-8 hours of sleep all the way through the night, don't worry about it. Just nap or rest as much as you can, whenever you can. This phase won't last forever.
A good night's rest is essential for good health because sleep affects our entire system. When your body is in deep sleep, your cells, tissues, and organs are repairing themselves. Not only that, your immune system becomes stronger, hormones are more balanced, and your brain is cleaned out. Figure out a set time to sleep each night so you can get in some good quality zzz's.
Check out some great suggestions for foods that help you get a better night's sleep.
Here's an infographic showing how the pandemic has affected our sleep and shares tips to help get a good night's sleep.
Cut back on sugar, alcohol, and caffeine
Cutting back on something you enjoy is not easy. I used to love eating sugary treats and caffeine every day until I made the decision to cut back on them and observe how I felt. What I found was my energy actually improved and my headaches lessened significantly. I didn't drink tons of alcohol, but I knew that drinking too much of it not only makes me feel super sluggish but can negatively affect my liver.
One of the ways you can stay healthy is to cut back on sugar, alcohol, and caffeine gradually. Sugar, alcohol, and caffeine can be addicting and taxing on your body when consumed regularly and in large amounts. Over time, they can lead to chronic inflammation and systemic disease.
I would suggest grabbing a piece of paper and write down how much less you would want to consume. This gives you a goal and motivation to stay the course whenever you're craving those 3 things. Also, describe your energy, mood, or any other changes for a week. Observe any differences in the way you feel.
Eat more veggies and fruit
Add more colorful vegetables and fruit to your plate each day. This is especially important during challenging times because when you're feeling stressed, you don't want to graze on junk food. If you're new to this, I have a simple half and half rule for my kids at dinner time. At least half of the plate has to be filled with vegetables and the other half can be grains and meat. Be sure to use whole grains and meats that are not processed.
This will train you and your kids to eat more balanced and nutritious meals each day. If you have picky eaters at home, offer the vegetables and fruit, and let them pick what they want to put on their plate.
Eating more colorful vegetables and fruit can help lower inflammation and automatically adds variety, essential nutrition, and fiber to your meals. They can also help prevent certain chronic diseases if you eat them as part of a healthy diet.
One thing that can help you stick to this habit is to ask yourself why you want to eat more vegetables and fruit. Perhaps you want to feel better or maintain a healthy weight. I find this helpful when I'm tempted to eat junk food because I can stop myself and remember my WHY. However, you don't want to deprive yourself too much. An occasional piece of cake won't hurt you.
You can also keep a food journal and write down everything you eat and drink for breakfast, lunch, and dinner for a few days. Then start swapping out any processed and refined food for whole grains, colorful fruits & vegetables, and lean meats. For example, replace a donut with oatmeal or a cookie for an apple.
Hydrate
In her book, "The Self-Care Solution", Dr. Jennifer Ashton suggests that women drink at least 2 liters of water each day. More than half of the human body is made up of water, so it is important to keep it hydrated. I tried her challenge of drinking at least 2 liters of water each day for 30 days and found that my skin looked clearer, felt softer, and needed less moisturizer.
The only drawback was that I had to use the bathroom more often, but I'd rather trade this inconvenience for healthier skin. Not only will drinking more water replenish your cells and tissues, but it also helps transport wastes out of the body, maintains body temperature, aids bowel movement, and helps to keep you healthy overall.
Deep breathing
Breath is a precious thing that we take for granted because it happens without even thinking about it. However, we would not last more than a few minutes without it. Deep breathing can help you stay healthy by bringing more air deep into your lungs. This delivers more oxygen to your cells and allows for greater absorption of nutrients. It can also help you calm down if you are feeling stressed or anxious.
You want to start by breathing slowly through your nose so you don't become lightheaded. Allow your lungs and belly to expand, hold for a few seconds, and release through your mouth. Repeat again for 5 minutes. You can do this exercise pretty much anytime and anywhere.
Meditate
Studies have shown that meditation can help reduce stress, help the mind think more clearly, and bolster emotional health and well-being. This exercise might seem a bit daunting, especially if you've never done it before. I remember feeling this way before I started to meditate each day. However, it's not as intimidating as it sounds. Meditating is not about emptying your mind and you don't have to spend an hour doing it.
The best time to do this is early in the morning before the kids are awake so you won't be interrupted. Find a comfortable sitting position. Set your timer for just 5 minutes and keep your eyes opened or closed. Focus on your breath or on an object when your mind starts to wander. Remember, you are not trying to force anything, just observe or notice what is happening. You can practice this simple technique every day to help you stay healthy.
Exercise
Getting the recommended amount of exercise each day can help you stay healthy in a myriad of ways. Exercise helps you maintain a healthy weight, lower your risk of certain diseases, strengthen the heart, improve your mood, increase your energy, and sleep more soundly each night.
The challenge is finding time to do it each day, especially when you have kids. You can either find some time in the morning before the kids are up or do an exercise with your kids. Choose something that is pleasurable to you and won't overwhelm you. If you have to, start slowly at a level you're comfortable with. Then increase the as you gain more energy and strength.
Play
Playtime might seem frivolous and reserved only for kids. If you gave yourself permission to play, you may find your passion and creativity reignited. You may even find yourself happier and more relaxed. When you're happier, you are better able to handle stressful and challenging times.
If you could play right now, what would you be doing? Would it give you more joy if you were doing it right now? If you can't think of anything, think back to when you were a kid. What did you enjoy when you were simply playing? You can even look to your own kids. Young kids will make any excuse to play. It can be a simple game of tag, hide & seek, or even pretend.
It can be challenging to care for yourself when you have kids, especially during times of uncertainty and stress. You don't need to invest a lot of time and effort to stay healthy, though. Just start with one habit and gradually add more as you master each one. They can be as simple as getting enough sleep, cutting back on junk, eating more fruits & vegetables, drinking more water, breathing deeply, meditating, exercising, or playing. You can weave these simple practices seamlessly into your life right away and you will only get better with time. I hope you found these tips helpful. Please share your ideas for staying healthy each day.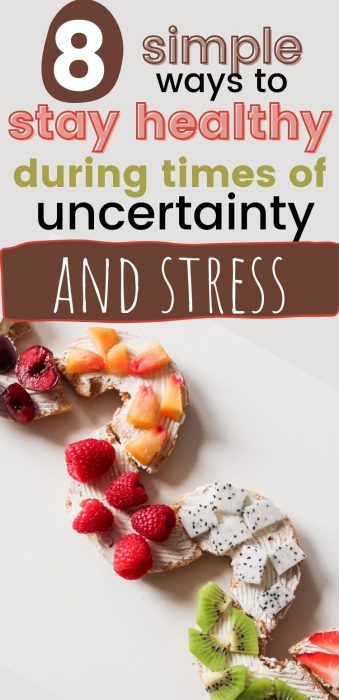 Author Bio

Christine Songco is a mother of 3 boys and wife of devoted husband, Paul. She started the blog Third Bliss after dealing with multiple health issues and wanted to share everything she learned to become healthy in mind, body, and spirit. After a lot of soul searching, and taking time off from her 13-year career as a registered dental hygienist, Christine aspires to become a certified health and wellness coach to help other women lead healthy, happy, and meaningful lives.

Pinterest | Facebook | Instagram| Twitter
---
Here is an infographic that helps share what we can do for self-care during times of stress.


Infographic source: A Self-Care Checklist for Your Mental Health During COVID-19
Join the Working Mom List
Join the Working Mom collective and get support and tools to help you thrive! Subscribers get access to my library of resources and printables.