Car Hacks Every Mom Needs to Know
Traveling with kids is a challenge. As parents of a 3-year-old little girl, we've had quite a few interesting experiences while on a trip. We've had issues with non-stop crying because she was bored, not having enough food, and trying to find items such as baby wipes, face towels, and whatnot.
My wife and I decided that we should find a way to make these trips comfortable for all of us. We also thought of a project to teach our daughter responsibility by way of road trips. We put our heads together and came up with car hacks that every mom needs (and dads, too!).
So, we got out our planners and started getting creative. We were going on a holiday trip to visit our relatives, so we should be well-prepared for the 8-hour drive.
Here's what we came up with:
Prepare Some Goodies
We decided that we should prepare some goodies for our daughter to nibble on. We bought a small plastic organizer with cover for her to put some goodies on. We let her select what goodies she wanted to include. She chose some cookies, fruit loops, gummy candy, cheese crackers, pretzels, marshmallows, raisins, and chocolate candies. Make sure you don't include snacks that your child may choke on. Eating can be difficult when traveling so the food you pack should be easy to eat.
For the grown-ups, we also have our snack basket. We got some bottled water, juice, milk (for our daughter) and some sandwiches. We also brought some mints should we feel nauseous. For longer trips, we also brought a thermos filled with brewed coffee and some coffee cups. My wife likes to hoard stuff, and she has a collection of creamer and sugar packets that we bring along.
Mason Jars are Not Just for Drinks
We have a few mason jars in our car. One is where we keep loose change; one other is for baking soda (as neutralizer), and another for mints and candies. We stuck the jar for the baking soda on the dashboard with some Sticky-Tack. The other two jars are in the space near the gear shift.
Keep the Surroundings Clean
We have two trash bins in our car: one at the passenger seat and the other at the back. We also keep extra trash bags in the glove compartment. In this way, it is easier for us to dispose of our waste without throwing them out the windows or stuffing them anywhere. Having trash bins inside the car also makes it easier for us to clean the car upholstery because we avoid spills and crumbs from getting on the seats. We also teach our daughter to keep the surroundings clean by throwing garbage in the proper receptacles. She is more careful when handling food and drink, rarely do we have to clean the car upholstery deeply.
Keep them Entertained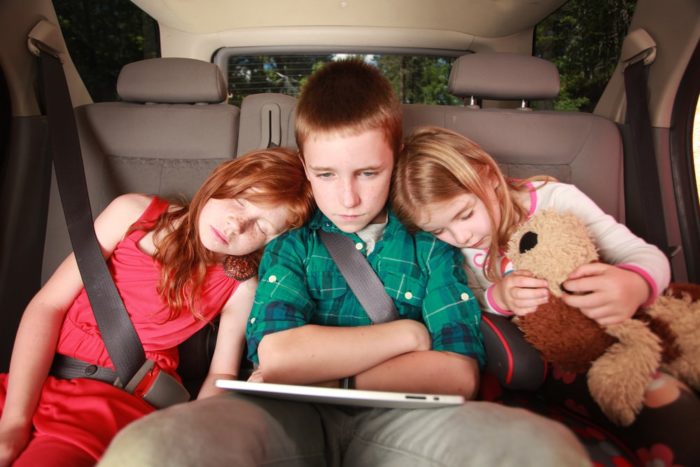 One of the reasons why our daughter throws tantrums is she gets bored. We decided to create a project for her. We purchased shoe organizers to hang at the back of the car seat. In it, we asked her to choose which toys she wants to bring on a trip. We reminded her not to bring tiny toys or those with small parts so that they won't get lost. She opted to bring her dolls and stuffed animals.
I also purchased a food tray which I placed in the pocket of the car seat. My wife put together an activity set where she placed a coloring book, drawing pad, crayons, and pencils. These she also put together with the food tray. If she gets tired of the toys, she can always bring out the art materials and use the tray.
My daughter also likes to watch cartoons and children's shows on her iPad. We downloaded some of her favorite shows before the trip. We also purchased a child-friendly headset for her. We placed these in a bag and tied it to her car seat so she can easily bring it out.
Keep the Trunk Organized
Our trunk is full of clutter – tools, shoes, and other things. We decided to do a major cleanup and bought some storage baskets. We used the storage basket to store the car tools, flashlights, portable jumpstarter, jumper cables, and a tire pressure gauge. We also have two large umbrellas we keep in the trunk.
We also got another plastic shoe organizer that we fastened to the trunk. Here, we kept the fluids such as car spray wax, washer fluid, brake fluid, coolant, transmission fluid, and some microfiber towels. We also left two empty baskets for groceries.
Clothing and Raingear
Inside the car, my wife prepared Ziplock bags with children's clothing, extra shirts for us, and raincoats. She kept them organized in a small box and also placed two foldable umbrellas.
Toiletries and Miscellaneous Stuff
We had another shoe organizer installed at the back of the driver's seat. In this organizer is where we kept toiletries. We have sunscreen, bug repellant, alcohol and sanitizer, baby wipes, face cloths, petroleum jelly, and a First Aid kit.
My wife also got us some neck pillows and a blanket should we need them.
Keep Yourself Hydrated
Since we already have our bottled water inside the car, we also had a cooler where we stored extra water bottles, milk, and juice for longer trips. When the weather is pretty warm, we go on pit stops and opt to eat our prepared food rather than buy from fast food places.
Conclusion
We were very proud of our project. We also decided that some of the organizers stay in the car in case either of us go on trips without the other. It's going to be really helpful for parents especially when driving alone with a child. Everything is accessible, and the kids won't get bored if you have these in your car. However, even though your kids are busy and you don't hear any noise, always check on them. Prioritize your kids' safety.
What do you think? Do you also have other ideas that you'd like to suggest? I'm sure you also have some creative hacks that are helpful to parents who are also car owners. I'm sure others will love to hear from you. Please share with us your feedback, suggestions, and even stories of your trips. Leave a comment and share this article with other parents out there!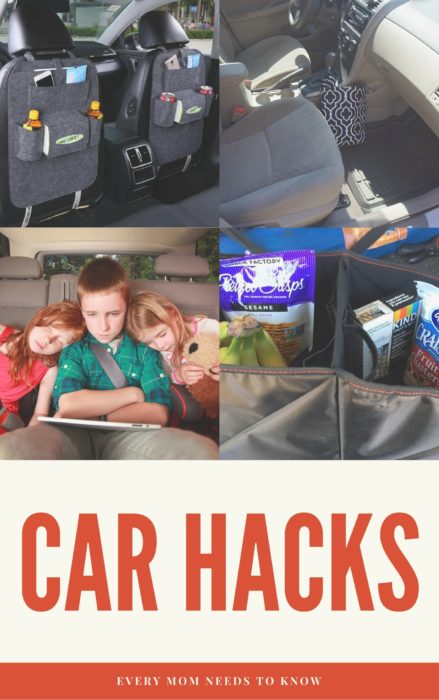 Author Bio
David, Jane and Nana is a family that enjoys living the RV life. If you want to read more tips about living in a RV and cars, please visit their blog (Carunderstanding.com).
Join the Working Mom List
Join the Working Mom collective and get support and tools to help you thrive! Subscribers get access to my library of resources and printables.