Moms, we have arguably the most difficult jobs on the planet. Working moms, well we have two jobs, and that is what it is. It's hard, it's exhausting, it's something we love and want to hide from at the same time.
Here are some amazing videos to help give us some motivation, to remind us that we are awesome and help us feel great about ourselves. The TED talks were actually part of this year's International Women's Day luncheon my office had, and I saved the links to share with you.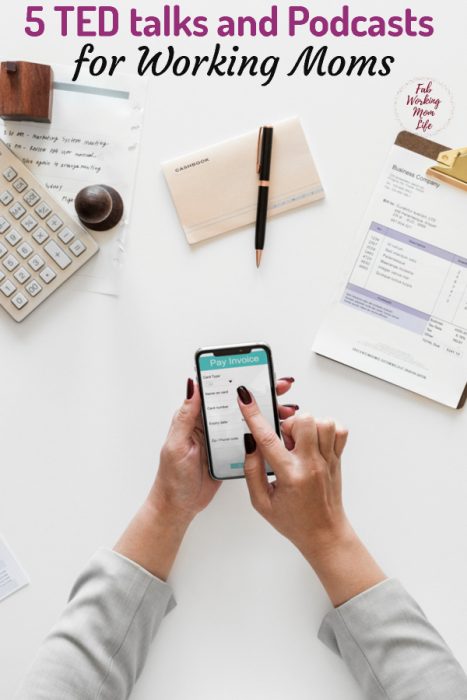 Talks and Podcasts for Working Moms
The first one is this video on Facebook, where Ms. Joyce Meyer reads an excerpt of a book and reminds us just how much we moms do!
Next is a TED talk by Sheryl Sandberg herself! She's the COO of Facebook. It's called Why we have too few women leaders. She shares three pieces of advice for women in the workforce. The don't leave before you leave piece is so important. Give it a listen!
The next one is Michael Kimmel on Why gender equality is good for everyone, men included. He's right, gender equality in the workforce and at home is win-win for us all. Plus, his tie segment is hilarious.
Have a listen to Anne-Marie Slaughter's TED talk called Can we all "have it all"? Anne-Marie Slaughter is a public policy "thinker" (what a cool title!) who has really exploded the work-life balance discussions. I love how she links being a good breadwinner and being a good caregiver and vice versa. Yes, workplace flexibility is so vital.
Kristen Pressner's talk called Are you biased? I am! She talks about bias against women leaders. Flip the situation to test yourself. If it seems weird, you may wanna check yourself.

Finally, here's an entire podcast you can listen to. I learned of this podcast through a women's networking group. The Harvard Business Review's Women at Work podcast tackles the subject from at least two or three perspectives. Give it a listen – The first season of this Podcast is 6 episodes long. The second season has started. These are quite a bit longer than the previous videos I shared, but are definitely worth a listen! These don't have embeddable links so you should visit Podcast: Women at work.
---
This post is part of the 31 Tips for Working Moms series. See the rest of the posts here:
Join the Working Mom List
Join the Working Mom collective and get support and tools to help you thrive! Subscribers get access to my library of resources and printables.