As a busy working mom, I just don't have the time to come up with intricate and exciting learning activities for my toddler. It is one of my sources of mom guilt, but there is just not enough time in the day, nor do I have the energy left by the time the weekend rolls around.
Many stay at home moms take their sweet babies to children's museums and playgrounds and libraries for toddler time and have the toddlers practice fine motor skills.
Us working moms, though, we just do the best we can on weekends – when most of these fun toddler-friendly activities are not going on. So what do we do?
We search Pinterest or read blogs and find fun ideas for things we can try at home. We pin, bookmark, and have every intention of doing all the fun stuff we scroll through on our phone in between meetings, but in reality, we just don't get around to it.
Simple Learning Activities for Toddlers and Preschoolers
That's why this specific book (DISCOVER + PLAY + ENGAGE + LEARN) caught my attention. It grabbed me so hard I actually bought it.
I so rarely actually buy stuff, because I don't want them to just sit around in my virtual folders and never get used. But this one? I printed it out. See?
And we've started doing some of these activities!
The DISCOVER + PLAY + ENGAGE + LEARN eBooks have a combined 20 weeks of activities that are perfect for the early years. Fun ways to get kids moving, work on fine motor, do arts and craft projects and have fun as a family! Each weekly plan includes a handy supply list and activities broken down to know exactly what to do in a simple sentence or two.
This right here is what sold me on this ebook. Simple instructions, a simple list of things you need, and lots of easy, fun learning activities!
Grab your Monthly Activities Planner
Join the email tribe and we will send you this monthly activity planner right away!
I mentioned that we started doing some of these learning activities with my toddler. I know you want to see!
Here's one that is a simple activity of using double-sided tape, or contact paper as the activity book recommends, to practice sticking objects to the paper and making a design. This is great for a tactile activity with feeling various objects and arranging them, and also good for dexterity.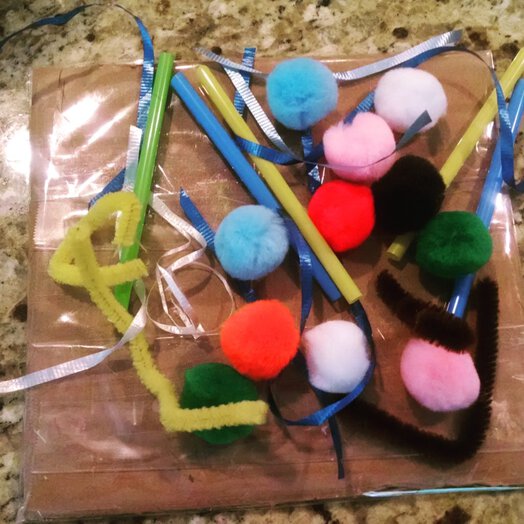 Here's another one that we just loved! I bought contact paper that is a chalkboard style, so we could use it again and again, and we added it to a cardboard box panel. Then we let my little one-year-old draw with chalk. This is from his very first time. Isn't it gorgeous? He drew me a mountain! This totally went on my fridge!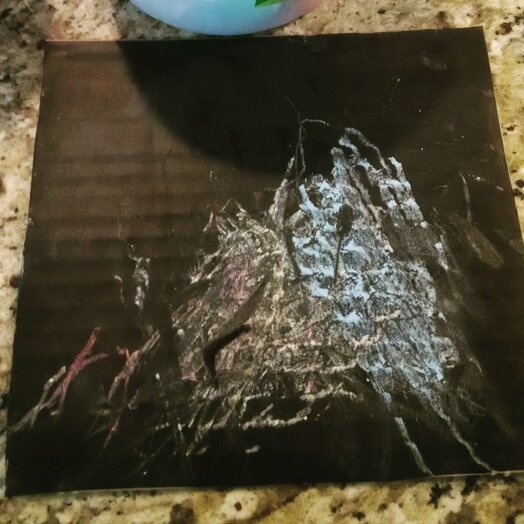 As you can see, we're making great use of this book already. I LOVE that it contains activities specifically for ONE-year-olds and a separate section for TWO-year-olds. Why? Because most "toddler activities" books are too advanced for my boy. He can't lace things yet or arrange items by amount.
I've noticed a serious lack of activities specifically for this stage until I found this ebook by Hands on as We Grow. I was very impressed with it and quite pleased with my purchase, and so I wanted to share that mom win with you!
>>> Check out the DISCOVER + PLAY + ENGAGE + LEARN books
Who needs these Discover, Play, Engage, and Learn books?
Moms who want to do activities with their toddlers
Moms who don't have time to research activity ideas
Working Moms, like me, who just want a simple plan to engage with our kids in the limited time we have
What are the benefits of these books?
The books split up the activities by age rather than "toddler".
There is a special book just for one-year-olds! This was what hooked me!
These activities are simple in their instructions and use simple, common items
The individual books are listed for $12/each, but this bundle of 4 books sells for $36!
Are you ready to join me in doing these wonderful learning activities with your toddler? Let's help our little ones grow and develop in play, even if we only have a little time on the weekends in which to engage in these activities.
To help you out in planning your toddler's activities, I made you a present! Check out this lovely little monthly activity planner. You can fill in the dates and decide what fun activities you will do and when (based on what works for your schedule).
Grab your Monthly Activities Planner
Join the email tribe and we will send you this monthly activity planner right away!
What learning activities for toddlers do you have planned to do with your child? Grab your copy of DISCOVER + PLAY + ENGAGE + LEARN and let's enjoy some special learning activities with toddlers.
You may also like: